A collection of poems, " Ulaikalam," written by Poet Puthuvai Ratnathurai, head of the Liberation Tigers of Tamil Eelam Cultural and Arts Department, was released Friday at the Kailasapathy auditorium of the Jaffna University, where a leading political activist of the LTTE, Mr.V.Balakumaran, was the keynote speaker, sources said.
The Jaffna district LTTE political head, Mr.C.Ilamparuthi, presided over the event.
Expressing confidence that India would soon come to know the true position of the LTTE, Mr.Balakumaran said that if India comes forward to improve its relationship with sincere heart, the LTTE is prepared to consider it. "The LTTE will not engage in activities that could disrupt the regional politics of India," he said, adding that the LTTE leadership is also very keen to mend fences with India.
Mr.Balakumaran blamed India for using the LTTE's freedom struggle for its political interests, but said that the LTTE would not engage in any confrontation with India or work against its interests. He said that he personally welcomed the stand taken by the Tamilnadu Chief Minister, Ms Jayalalitha, against the proposal for constructing a bridge between India and Sri Lanka.
If a bridge were constructed between Talaimannar in Sri Lanka and Rameswaram in India, "it would ruin our culture," he said. By opposing the construction, Ms Jayalalitha has "come to the rescue of our culture," said Mr. Balakumaran.
"Through the present peace process after the unsuccessful Agni Kheila military operation of the Sri Lankan government, the LTTE has taken a new path in the international arena," Mr. Balakumaran said. "The LTTE has a clear vision in the international arena and it is taking forward its political activities accordingly."
At the commencement of the event, the head of the Thamileelam Sports Department, Mr.Pappa, hoisted the Thamileelam national flag and the head of the Martyrs' Unit, Mr.Pon.Thiagam, lit the flame of sacrifice. Mr.Anbumaran delivered the welcome address and the editor of "Velichcham" magazine, Mr.S.Karunakaran, delivered the book release address. The LTTE's deputy political head, Mr.Thangan, released the first copy of the poem collection to Pundit Ms.Thangamma Appakutty, head of the Tellipallai Thurgai Thevasthanam and a well-known religious speaker.
Messrs I. Santhan (a leading Tamil writer), Jaffna University Professor A.Shanmugathas and retired judge Mr.M.Thirunavukkarasu delivered appreciations for the book.
Mr. Ratnathurai wrote these poems under the pen name of " Viyasan." He delivered his acceptance address at the end.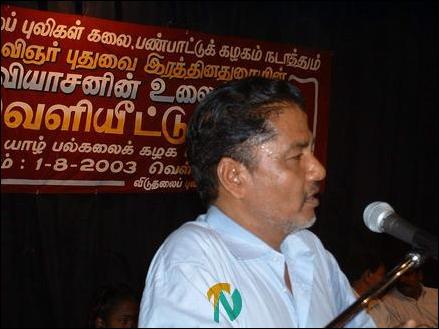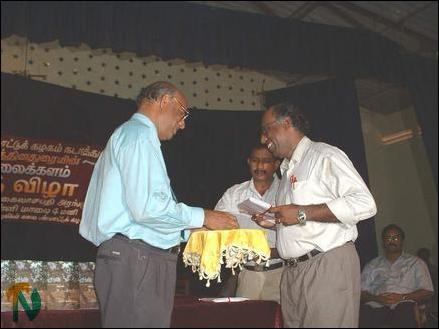 Chronology: